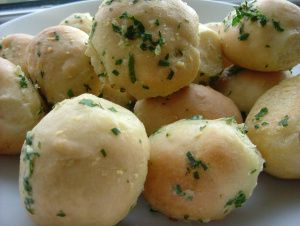 These deliciously fresh, soft garlicky dough balls are a great alternative to garlic bread. I generally make them with left over pizza dough (about half the quantity in the recipe) but they are so nice that I do often make fresh dough for them.  You can safely store pizza dough in a freezer bag in the fridge for 2 to 3 days. 
pizza dough (half the quantity makes around 18 balls)
2 cloves of fresh garlic
60g soft butter
2 tablespoons of chopped fresh parsley
pinch of salt
Preheat the oven to 220ºC. Shape the dough in to small round balls – approximately the size of a large marble.  Place them in a lightly oiled tin (I use a round cake tin), spaced evenly apart with enough room to rise.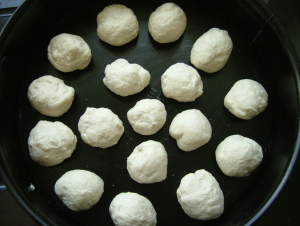 Leave the dough to rest for approx. 15 minutes, covered with a clean tea towel.
Mix the crushed garlic, parsley and salt in to the butter.
Place the dough balls in the oven and bake for 15/20 minutes until golden on top.  Remove them from the oven, turn the temp down to 180.  Using two forks separate the dough balls from each other, then smear with the garlic butter.   It is a good idea at this stage to use a baking tray or tin foil under the sandwich tin to avoid garlic butter seeping on to the bottom of your oven as it melts. Place the tin back the oven and after 5 minutes to melt the butter and cook the garlic.  Remove the tin from the oven and toss the dough balls around in the garlic butter on the bottom of the tin to coat evenly.  Empty on to a warmed bowl or plate and allow to cool only slightly before eating.