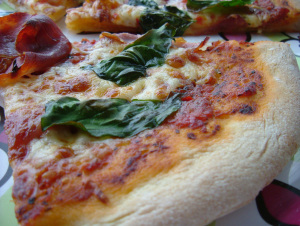 * I have updated this post following the Twizzaparty – which was great fun to take part in and gave me lots of fabulous ideas for toppings, thanks to Reindeersp, Dinner du Jour, Babaduck, Like Mam Used To Bake, Bibliocook, Joanna Schaff, Clare Kleinedler, I Can Has Cook and of course our lovely judge  Lorraine at Italian Foodies!  The pictures  are my chosen pizza for the evening with parma ham, mozzarella, chilli oil and fresh basil (I put the basil on towards the end of cooking to avoid burning but in future I think I would just scatter on when the pizza is removed from the oven completely as basil tends to get too crisp).  One difference to my method was only part rolling the dough and then using my hands to shape and stretch the pizza.  This I found gave a slightly thicker, chewier crust whilst still keeping the base nice and thin – this is definitely the way I will make pizza in future. The more you make it, the better you will get.  I would still love to learn to spin it like the pros though!
So at the suggestion of Dinner du Jour and Reindeersp a gaggle of Irish food bloggers will be hosting a #twizzaparty on Thursday.  It's a brilliant way for all of us bloggers to share our pizza recipes and discover other methods and techniques.  I love homemade pizza – it is so much better than many take-away offerings and definitely much better than any frozen pizza you are likely to find.  I like my pizza very thin and my preferred toppings are spicy beef (I freeze any left over chilli con carne in small bags ready for defrosting), jalepenos,  pineapple and lots of mozzarella or if I am lucky enough to have visited my favourite deli in Clifden, creamy slices of buffalo mozzarella, salty parma ham, then scattered with rocket after it has been removed from the oven.  The recipe for the dough is from Hugh Fearnley Whittingstall's Family Cookbook and the sauce is adapted from the same book.  The dough quantity will make 4 thin based medium pizzas (approx. 9-10″). I tend to use half and refrigerate the other half for the next day or freeze it.
For the dough (to make 4 thin medium sized pizzas)
475g strong white flour
2 teaspoons of dried yeast (or 1 sachet)
2 teaspoons of salt
2 tablespoons of olive oil
2 teaspoons of honey
300mls of warm water
Place the flour, yeast and salt in a large bowl and mix roughly with your hand.   Put the oil and honey in to a jug and pour in warm water to bring it to 300mls.   Make a well in the flour and pour in the oily warm water.  Using your hand mix the dough until it forms a soft rough ball.
Sprinkle some flour on a clean surface and then knead the ball of dough by pressing down and then out with the butt of your hand – if it makes it easier use the tips of your fingers on your left hand to hold the dough in place whilst pushing out with the butt of the right hand.  After you have stretched the dough out, fold it over, turn it 90º clockwise and knead it again.  Continue kneading for at least 10 minutes – the dough will become more elastic and smooth.  Place the dough back in the bowl, cover with clingfilm and leave in a draught free place for a couple of hours to rise.
For the sauce
1 tin of chopped tomatoes
2 cloves of garlic
2 tablespoons of olive oil
generous pinch of salt and black pepper
a teaspoon each of dried oregano and basil
Place all of the ingredients in a pot, bring to the boil and then turn the heat to low and allow to simmer for 5 to 10 minutes until the sauce has thickened to a runny jam-like consistency.
Now to make the pizzas.  Once the dough has risen, remove the clingfilm, knock the air out of the dough by punching it (as you can see from the handprints below this is my sons' favourite part) and then remove from the bowl and cut in to four.  Shape each piece in to a round and allow to rest for around 10 minutes.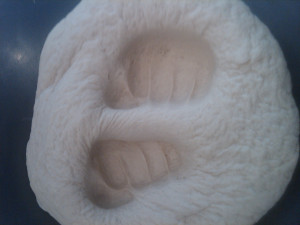 Meanwhile preheat your oven to a very hot setting – I usually turn mine up to 250ºC and place a large flat baking sheet in to heat up.  If you don't have a flat sheet use an upturned roasting tray. Check that your bakeware is suitable for this high temperature.
Sprinkle the work surface again with flour and roll out each pizza, continually turning and dusting the work surface and rolling pin with flour as needed.  This takes a bit of elbow grease as the dough will be so elastic that it will want to spring back in to shape.  The more I have made pizza the better I am getting at achieving a round shape but it really doesn't matter, it is a rustic homemade pizza so don't worry too much about shape. The important thing is not to rip the dough.  Once you are happy with the size (this quantity will make approx. 4 9″/10″ pizzas) leave to one side and roll the next.
When you are ready to assemble remove the hot baking sheet from the oven and place it on a wooden board.  Make sure you have all of your toppings ready.  Quickly place the pizza base on to the sheet so that it starts to cook on the hot surface.  Use around 2 tablespoons of sauce per pizza spreading it with the back of the spoon.  Leave a 1″ edge around the pizza which makes it easy to pick up each slice without getting your hands covered in sauce.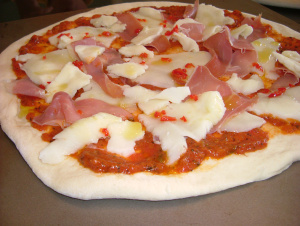 Scatter on your chosen toppings and then place the sheet in the oven for around 8-10 minutes.