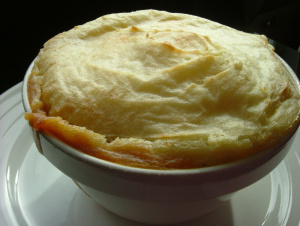 One of the first meals my husband ever cooked for me was Cottage Pie and it (or Shepherds Pie if lamb mince is available) is still a firm favourite in our house.  Over the years we have tried out a few different recipes but the one I favour most is that of Gary Rhodes in New British Classics, which forms the basis for the recipe below.  I don't feel the need to add wine – I like the mince to be savoury but not too rich.  I serve my pies in small pudding bowls and it is a great one-pot dish with no need for anything else, unless of course you wish to add more veg.
To make 4 individual servings:
1½ lbs lean round steak mince (or lamb mince if making Shepherds Pie)
2 tablespoons of olive oil
2 large onions, finely diced
2 sticks of celery, de-strung and finely sliced
2 or 3 large carrots, diced in 1cm cubes
½ small turnip, diced in 1cm cubes (optional)
1 teaspoon of rosemary
1 tablespoon of thyme
1 pinch each of salt and pepper
2 tablespoons of tomato ketchup
1 tablespoon of tomato puree
2 tablespoons of Worcestershire sauce
1 tablespoon of flour
500ml of beef or lamb stock
1 or 2 handfuls of frozen garden peas
4/5 large potatoes
milk
butter
Heat one tablespoon of oil in a large casserole on a high heat and add the onions, celery, carrots and turnip, stir and cook for 5 minutes. Turn the heat to low and place the lid on the casserole and leave the veg to sweat until soft (approx 10 minutes), occasionally stirring and checking to ensure they don't stick.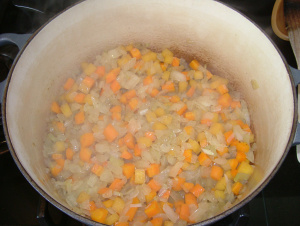 Whilst the veg is cooking heat a tablespoon of oil in a frying pan on high heat, when almost smoking add the mince in one thick patty (like a large hamburger) and leave for 4/5 minutes until well browned and then carfully turn and brown the other side.  Remove the mince from the pan and put it in with the softened veg. Add the rosemary, thyme, salt and pepper and mix well breaking the mince up as you stir.
Pour the beef stock in to the frying pan and allow to cook for a couple of minutes, scraping the crusty meat pieces from the bottom. 
Add the ketchup, tomato puree and Worcestershire sauce to the mince/veg and stir well.  Sprinkle in the tablespoon of flour and stir.  Then pour in the beef stock and mix well.  Add in the frozen peas and cover the pot and allow to cook on a very low heat for an hour and a half.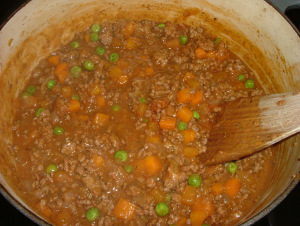 Meanwhile make some mashed potatoes for the topping.  I use approximately 4 to 5 large potatoes and the amount of butter and milk really depends on how you like your mash and the type of potato you use.  I tend to use around 100mls of milk to ensure the mash is soft enough to spread on top of the mince.
When the mince is ready place it in a large dish or 4 individual pie or pudding dishes and allow it to cool slightly.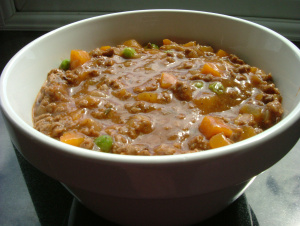 Preheat the oven to 180ºC.
Using a spatula place the mash on top of the mince starting from the outside and ensuring that you seal in the mince as much as possible which will help prevent too much liquid spilling down the side.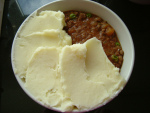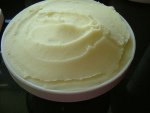 Place in oven for 15/20  minutes or under a hot grill until the top of the mash is crisp and golden.