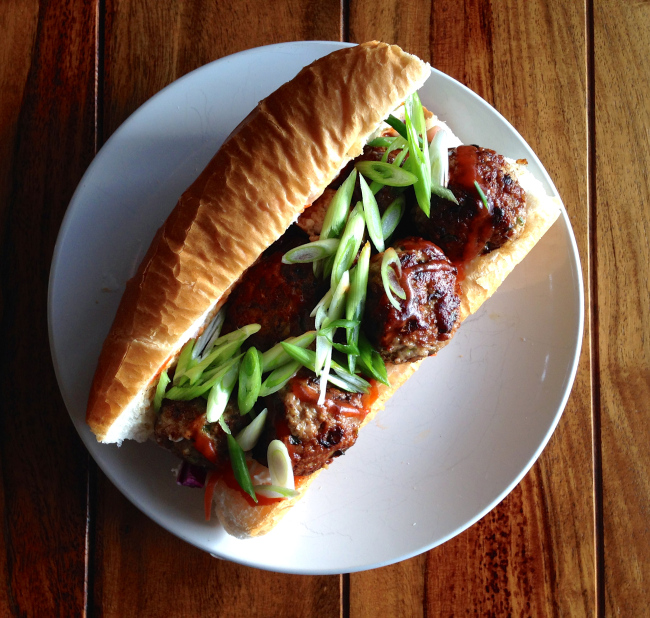 Friday night in our house is take-away night.  However, living as we do on the very edge of the west coast of Ireland where the next village is Greenwich, New York, the choice of actual take-away is fairly limited so we make our own.  It's the perfect little treat to end the working week and I tend to keep it simple but tasty – like homemade pizza with chilli and basil, yuk sung or juicy griddled chicken and pineapple with satay sauce.  The common theme is a bit of heat, lots of flavour and not too much effort.  Banh Mi fits the bill perfectly – it's a Vietnamese sandwich consisting of crusty fresh baguette, spicy meat, crunchy pickled carrot and cabbage, creamy mayo and hot hot chilli sauce.  For the meat element I make spicy pork meatballs but you can use any meat you want, as long as there is lots of flavour.  Whilst the meat should add some spice to this the real heat comes from the chilli sauce and I use Sriracha, which is fast becoming one of my favourite things.  It's a seriously hot inexpensive Thai sauce and leaves behind a tingle to the mouth that has to be good for you!  It's available in Asian supermarkets and I got mine in Eurasia on the Fonthill Road in Dublin.  Just one tip on the roll – proper Banh Mi calls for crusty French baguette and some of the inside bread is scooped out to leave a shell to hold the fillings.  If you are really lucky to live near a great bakers and can get your hands on good baguettes then perfect, but the ones available around here are a certain brand that is part-baked in store and too heavy and dense for my liking so I use fresh salad rolls from the local bakers that have the requisite crisp outer crust and a really light interior so I don't bother to scoop any bread out as they squish down perfectly to accommodate all of the filling when you take a bite.  There is enough here to serve 4 which means that in my house there is usually leftovers for a Saturday afternoon lunch for me too.  I use three meatballs per roll (in the pic above I have cut each meatball in two so there are six halves spread out on the roll).
For the meatballs:
1 lb pork mince
4 cloves of crushed garlic
2 red chills, deseeded and finely chopped
3 spring onions, finely chopped
handful of coriander (incl. stalks), finely chopped
2 tablespoons of rice wine vinegar
2 teaspoons of sesame oil
large pinch of coarse salt
1 teaspoon of ground white pepper
1 tablespoon of sunflower oil to cook
For the pickled salad:
1 large carrot, peeled and julienned
Quarter head of red cabbage, finely sliced
4 tablespoons of rice wine vinegar
2 tablespoons of caster sugar
1 teaspoon of salt
For the rolls:
4 crusty rolls or baguettes
half a cucumber peeled, deseeded and finely sliced
Approx 2 tablespoons of mayonnaise per roll – depending on your preference
hot chilli sauce – to suit your own threshold!
2 spring onions, finely sliced
small bunch of coriander, chopped
Firstly make the salad – mix together the rice wine vinegar, sugar and salt in a shallow large dish until the sugar is dissolved.  Add in the sliced carrot and cabbage and toss to coat evenly.  Leave to one side to pickle, tossing every now and then or even cover and leave in the fridge for a few hours if you want to make this well in advance.
Next make the meatballs by placing all of the ingredients, except the sunflower oil, in a large bowl and mix together thoroughly – I find there is nothing better than using your hands here to squish all of the ingredients together to make sure they are evenly distributed.  Roll the mixture in to 12 even golf sized balls and then cover and place in the fridge for 15/20 minutes.
Now prepare the cucumber and spring onions for the rolls and leave to one side.
Heat the sunflower oil on high heat in a heavy based frying pan.  When hot add in the meatballs – spaced evenly apart to avoid over-crowding and sweating, which will make them steam and they won't brown – you want a nice deep golden crust.  Cook on each side for around 2-3 minutes until nicely browned then lower the heat to medium/low and continue cooking for around 10-15 minutes turning regularly – you can cut one to check that it is hot in the middle and not pink.
Cut the baguettes or rolls lengthways but not right the way through, open them out and spread each with the mayonnaise.  Drain off the pickled carrot and cabbage and divide between each roll (if you are saving some of this pickled veg for the next day then only drain what you are using now and leave the remainder in the vinegar, cover with cling and leave overnight in the fridge).  Next divide the sliced cucumber between each roll before adding the hot meatballs.  Now drizzle with as much hot chilli sauce as you dare and garnish with spring onions and chopped coriander.  Pick up, squish the roll together so all of the ingredients stay in place so you can take the biggest bite you can…that's how I do it anyway :)
Tip:  if you want to keep some meatballs for the next day, allow them to cool before covering and refrigerating.  I find the easiest way to reheat without drying them out too use a large pan with a tight fitting lid, heat a tablespoon of sunflower oil on medium heat, add in the meatballs and allow them to cook for a few minutes turning to avoid over-browning then, with your lid ready, add a ramekin of hot water to the pan (this will sizzle and let off a lot of steam so be careful!), quickly cover with the lid. Turn the heat down and leave to steam for around 10 minutes.  You can cut each leftover meatball in half before starting this process to speed it up.