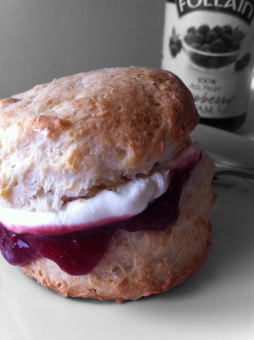 There's nothing like a fresh home baked scone – crumbly, soft and light, served with fresh cream and a good dollop of jam or still oven warm with a generous spread of butter.
I've tried a few scone recipes in my time but our favourite is from the lovely Hugh Fearnley Whittingstall's Family Cookbook.  It's really simple and produces lovely light scones.  This recipe can also be used for fruit scones by chucking in a couple of handfuls of sultanas or any other dried fruits that take your fancy.  A little tip that I read somewhere to ensure that your scones rise is not to twist the cutter when cutting out the dough and I really thinks this works.
Some time ago I was very lucky to receive a generous box of jams and relishes from the very nice people at Folláin Traditional Fine Foods based in West Cork – they have been making wholesome natural jams, marmalades and relishes for nearly 30 years and I can certainly vouch for their deliciousness.  The Fire Roasted Red Pepper Relish was superb smeared in a toasted pitta with sausages and I have a real soft spot for the Extra Fruit Raspberry, perfect for slathering on scones. Check out their great range over at http://www.follain.ie.
The recipe says this quantity of dough will make about 16 scones but I like to make larger scones so I usually get 8 to 10 out of this dough.
450g self-raising flour
pinch of salt
2 teaspoons baking powder
100g butter
100g caster sugar
300ml buttermilk
Preheat oven to 210°C fan assisted (gas mark 8).
Sift the flour in to a mixing bowl and add the salt and baking powder.
Cut the butter in to cubes and add them to the flour, then rub the butter in to the flour with your fingertips until it has disappeared and the flour looks sandy.
Tip in the caster sugar, stir and then using a knife gently stir in the buttermilk until you have a sticky dough.
Turn the dough out on to a floured work surface and using a rolling pin press the dough in to a round about 1½ inches thick.  Dip a pastry cutter in flour and cut as many scones as you can from the dough taking care not to twist when removing.  Place the scones on a lightly floured baking sheet and bake for around 15-20 minutes until golden brown on top.