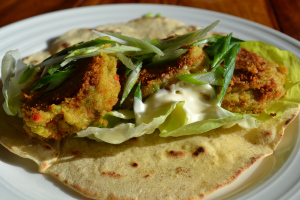 For the last couple of weeks I have been craving something different for lunch, something a bit spicy, hot and light and these Falafel Burgers, based on a recipe I found on the BBC Good Food website, turned out to be just what I was looking for.  They are very simple to make and make a great lunch when wrapped in some homemade flatbread with some crunchy lettuce and natural yoghurt (perhaps flavoured with some chopped mint) or mayo.  I used a flatbread recipe from River Cottage Everyday and one thing I discovered is that if you keep leftover dough in the fridge overnight it makes a softer, chewier flatbread the next day and makes excellent mop-ups for curry. 
Flatbreads – makes 8
250g plain flour

1 teaspoon of finely crushed sea salt

1 tablespoon of rapeseed or olive oil

150ml warm water
Falafel Burgers – makes 6
1 tin of chickpeas, rinsed and drained well.

1 clove of garlic

1 red chilli (deseeded)

1 spring onion

1 handful of fresh parsley

1 teaspoon of ground cumin

1 teaspoon of ground coriander

2 teaspoons of flour

pinch of salt

2 tablespoons of rapeseed or olive oil
To make the flatbread:  sift the flour in to a large bowl and add the salt.  Add the oil to the water and pour the liquid in to the flour in a thin stream, mixing it in with your hand until you have a sticky dough.  Turn the dough out on to a floured work surface and knead for around 5 minutes until the dough is smooth – if necessary sprinkle on more flour as you go.  Cover the ball of dough with the upturned bowl and leave it to rest for 15 minutes.
When ready to cook roll the dough in to a sausage shape and divide in to 8. Roll each piece in to a ball and then, using a floured work surface and rolling pin, roll the ball out in to a 2/3mm thin round.  Heat a heavy non-stick frying pan on high heat. Shake any excess flour off the rolled out dough and place in the hot dry pan, turning the heat down slightly.  Allow it to cook until you start to see if lift slightly at the edges and then turn it over and cook the other side – both sides should be cooked until you get brown toasted patches. Remove the flatbread from the pan and wrap immediately in a clean tea towel to keep it warm and soft as you cook the next flatbread.  Keep any leftover dough wrapped in the fridge.
To make the burgers:
Dry the chickpeas with some kitchen paper.  Place in to a food processor together with the garlic, chilli, spring onion, parsley, cumin, coriander, flour and a pinch of salt.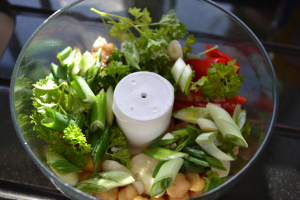 Blend until the mixture is well blended and fairly smooth then shape in to six small patties (I roll each in to a ball and then press flat).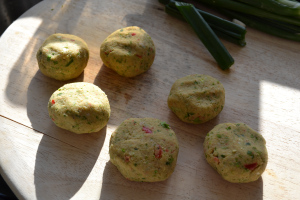 Heat the oil in a non-stick frying pan on medium heat and fry the burgers for around 5 minutes each side until nice and golden.
Serve with nice crisp lettuce, spring onion and yoghurt or mayo, wrapped in the soft flatbreads.