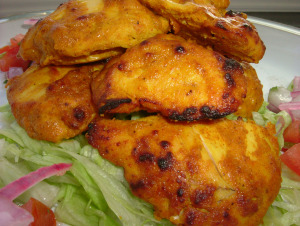 Chicken Tikka is a great for barbecues but can easily be cooked on a griddle or in a very hot oven (the chicken in the picture above was cooked in the oven but I much prefer the charred stripes from cooking on a bbq or griddle). This is a very simple marinade and the yoghurt  really tenderises the chicken. Unlike lamb, which benefits from a long marinade time, chicken only needs to marinade for an hour or two – any longer and I think it starts to go a bit 'cotton woolly'. Because the chicken breast is cut in to chunks (approx. 2″)  the meat cooks fairly quickly. If you are cooking on a barbecue it is much easier to use skewers as this will speed up the turning time – otherwise you will have to turn each individual piece.  On a hot heat these should cook in around 10 minutes.  If cooking in the oven get your oven as hot as you can.
To serve 4:
4 chicken breasts cut in to 2″ pieces
4 cloves of garlic, crushed in a garlic press
1″ piece of ginger, crushed in a garlic press
pinch of salt
1 tablespoon of garam masala
1 tablespoon of tumeric
1 teaspoon of ground cumin
1 teaspoon of ground coriander
1 teaspoon of paprika
½ teaspoon of chilli powder
drizzle of oil
250ml of greek yoghurt (or natural unsweetened)
juice of half a lemon
Place the garlic, ginger and pinch of salt in a pestle and mortar (if you haven't got one try a chopping board and clean smooth stone) and grind them together to make a paste.  Put the garlic and ginger paste in to a large bowl and add the ground spices and oil and mix to make a thick paste.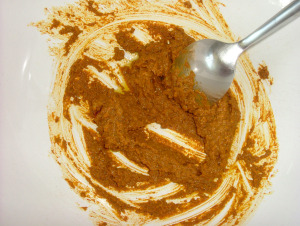 Add the yoghurt and lemon juice and mix until evenly blended.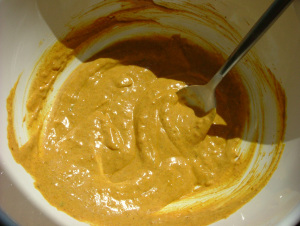 Add the diced chicken and stir through the marinade to ensure that all of the chicken pieces are coated well.  Cover the bowl in clingfilm and place in the fridge for an hour or two – removing from the fridge approx. half an hour before cooking.
If barbecuing push the chicken pieces on to skewers ensuring that they are not packed too tightly and place on a hot grill for around 10 minutes, turning to ensure all sides are cooked evenly.  If cooking on a griddle or oven place make sure that you get the griddle or oven tray very hot and then place each individual chicken piece (rather than emptying the bowl) on to the hot surface and cook for around 10 minutes on high.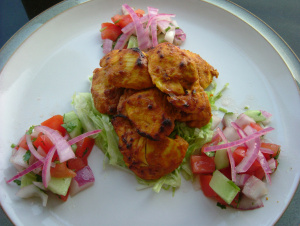 Serve with a nice fresh salad like this zesty coriander, tomato and cucumber salad.