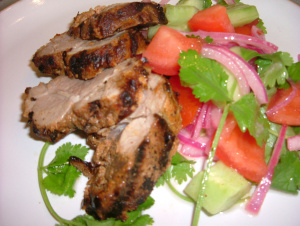 This is a wonderful greek-inspired marinade that I tried out at a family barbecue a long time ago and have been using ever since.  I wanted something that would serve many, in addition to offering burgers etc, so I opted for a butterflied leg of lamb as it is easy to carve, contains plenty of fat to keep the meat moist on the bbq and it goes a long way.  The only thing to do then was make a marinade that would both add flavour and tenderise the meat.   The marinade, which I leave on the lamb overnight, is very simple and gives the meat a fabulous spicy flavour and a wonderful charred crust.  A great way to serve this is as a kebab – thin slices in pitta bread with salad and a mint and yoghurt sauce or aioli.  You can also use a boned fillet (top of the leg) and halve the marinade quantities if you want a smaller amount of meat.
Butterflied leg of lamb
8-10 cloves of garlic, peeled and crushed
large pinch of coarse salt
1 tablespoon of olive oil
3 tablespoons of paprika
30g fresh chopped coriander
500ml greek yoghurt (or natural unsweetened yoghurt)
juice of 1 lemon
Using a pestle and mortar grind the garlic and salt together to form a paste.   Add the olive oil, paprika and coriander and mix well.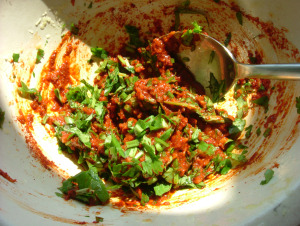 Add in the yoghurt and lemon juice and stir well to ensure the paste is evenly blended.
Lay the leg of lamb out flat (flesh side up) and stab all over with a sharp knife.  Take half of the marinade and spoon it over the surface of the lamb, making sure it gets into any crevices.  The fold the leg in to its natural (bone-in) shape.  Pour the remaining half of the marinade in to a large freezer bag and place the leg in.  Squeeze any air out, tie the bag and then squash the bag so that the marinade is covering all of the meat.  If the leg is too big for a freezer bag put it in a snug fitting bowl or plastic container (not metal) and cover tightly with clingfilm.  Leave in the fridge overnight or for as long as possible.
Remove the lamb from the fridge around an hour or half an hour before you wish to cook it.  When removing from the bag or bowl wipe off some of the excess marinade (leave a light coating on the meat).  Lay the meat out fully on the barbecue and cook for approximately 20 minutes per side on a medium heat.