If there is one thing I miss about city life since moving to the country it's the lack of choice and convenience when it comes to eating out or ordering in.  It became a little custom in our house on Friday nights to go out to our favourite Chinese restaurant or order in a pizza, a little treat at the end of a busy working week and I missed this a lot when we moved.  As with all things we learn to adapt and so now our Friday evenings feature our very own 'homemade take-away'. We make things like pizzas, or burritos, or chow mein or curries, depending on the mood and how much effort we want to put in.
This recipe for Chicken Satay is from Bill's Basics by Bill Granger (I love this book!) and it really is a very simple, reasonably quick but very tasty dish to make and the rich, spicy peanut sauce is a match made in heaven with sweet, juicy fresh pineapple. I use chicken breast rather than thighs as suggested by Bill – this is just my personal preference. I also added a crushed clove of garlic to the satay – again my preference – and I omitted lemon grass from the marinade purely because my local shop doesn't stock it, if you can get it then add 1 stalk, crushed and finely chopped to the other ingredients when blending in the food processor but this dish is no less tasty without it.  I tend to use a griddle for cooking marinated chicken as I like the charred effect this gives – you can alternatively grill the chicken or pan-fry, whichever you prefer.  This would also be a fantastic dish to cook on a barbecue.
I served the Satay in the customary Chinese restaurant style with shredded iceberg lettuce and chunks of fresh pineapple and Bill suggests cucumber and red onion. If you are serving as a starter or lunch then the quantities below will serve 4, or 2 for a light supper.
For the marinade:
3 cloves of garlic, peeled
3cm piece of fresh ginger, peeled
1 tablespoon of brown sugar
1 teaspoon of salt
1 teaspoon of turmeric
50g dry roasted peanuts
125ml water
4 skinless chicken breasts, diced
For the Satay Sauce:
250ml coconut cream (or use the cream from the top of a 40oml tin if you can't get cream)
1 tablespoon of red curry paste
1 clove of garlic, crushed
100g dry roasted peanuts, finely ground
1 tablespoon of soft brown sugar
2 tablespoons of soy sauce
1 tablespoon of lime juice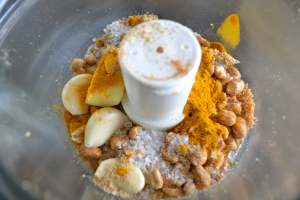 First make the marinade by blending the garlic, ginger, sugar, salt, turmeric, peanuts and 125ml of water in a blender or food processor until smooth (tip: add only a third of the water at first to make a smooth paste and then slowly add the rest – it will be less messy than adding all of the water at once).  Transfer to a large bowl, add the chicken and toss well to coat.  Cover with cling-film and leave to marinate in the fridge for at least an hour.
Now make the sauce – heat the coconut cream in a saucepan over medium heat until just simmering.  Stir in the curry paste and crushed clove of garlic and stir until smooth and well blended.  Add in the peanuts, sugar, soy and lime juice and continue cooking for 5 minutes, stirring well.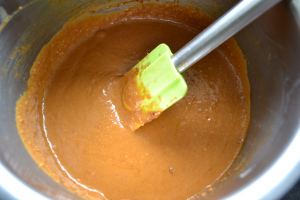 Turn off the heat and leave to one side to be reheated when you are ready to serve.   This is a great sauce to make in advance and heat up later if you wish. 
If you are griddle-ing or grilling (or indeed barbecuing) the chicken soak the wooden skewers for around 20 minutes before threading with the chicken to stop them scorching. Thread the chicken on to the skewers (I used only 4 skewers but Bill uses 8 with only 2-3 pieces of meat on each) and griddle, grill or pan fry on high heat, turning to make sure each side is evenly coloured and until cooked through (this took me around 10 minutes on a hot griddle). 
Place the skewers of chicken on top of some shredded lettuce and chunks of fresh pineapple and drizzle with the warm sauce.