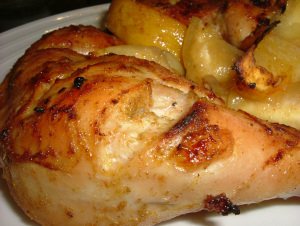 This is a really tasty way to cook chicken, either on the BBQ or roasted in the oven.  I bought a whole chicken and jointed it (you can ask your butcher to do it for you if you prefer) but I often buy packs of chicken thighs for this. 
8 chicken pieces.

8 cloves of garlic, bashed.

olive oil – approx. 100ml.

1 lemon, cut in to 8 wedges.

2 tablespoons of ground cumin.

2 tablespoons of paprika.

Drizzle of clear honey.

Salt and pepper.
Skin the chicken and cut gashes in to the flesh – 2 or 3 per piece.  Place in a large dish or container and push the garlic cloves into the gashes.  Pour over the olive oil and sprinkle on the cumin, paprika, salt and pepper.  Squeeze the lemons over the chicken and then put the wedges in amongst the chicken pieces.  Using your hands toss the chicken in the oil and spices to ensure it is all coated.  The drizzle the chicken lightly with the honey, cover and leave to marinade for a few hours (overnight if you wish).
To cook, preheat your oven to 180ºC and place all ingredients in a roasting tray, cook for approx. 35-40 minutes until nicely golden and cooked through.  If you wish to BBQ then I would recommend that you cook for 20 minutes in the oven and then finish on the BBQ to ensure the chicken is throroughly cooked.