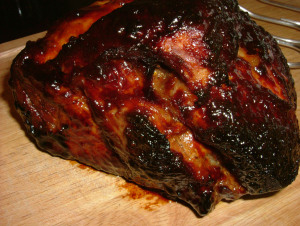 With much thanks to the lovely people at Bord Bia and the amazing Donal Skehan of the Good Mood Food Blog I was the delighted recipient of a parcel this week containing a wonderful big loin of Irish pork.
The loin was approximately 6lbs in weight and, as there were only 3 of us here this weekend, I decided to cut the loin in to two equal portions which enabled me to cook two very different meals – the first of which was an aromatic, sticky, deeply glazed, roast pork char siu served with noodles.  A 3lb joint will easily serve 4.
I trimmed the pork of any fat in order to allow the marinade to penetrate the meat, which was then marinated overnight in a freezer bag. I much prefer using freezer bags for marinating as the air can be squeezed out of the bag before sealing to ensure that the marinade is constantly in contact with the entire surface area of the meat – almost vacuum packed.
For the marinade:
200ml of hoisin sauce
100ml of dark soy sauce
100ml of clear honey
4 cloves of garlic, finely diced or crushed in a garlic press
1″ piece of ginger, finely diced or crushed in a garlic press
2 tablespoons of Chinese 5-Spice
1 tablespoon of rice vinegar
Place all of the ingredients in to a large freezer bag and holding the top  of the bag with one hand, use the other hand to squish all of the ingredients together through the bag.  Place the trimmed loin (ensuring any ties or butchers string is removed so that the loin can take its natural shape) in to the bag and squeeze any air out of the bag before tieing it tightly – this should ensure that all of the meat is covered by the marinade.  Leave the bag in the fridge for at least 4 hours but preferably overnight.
Remove the bag from the fridge a half an hour before you wish to cook it.  Preheat the oven to 180ºC and line a roasting tray with tinfoil – this will  be much easier when it comes to washing up!  Carefully remove the loin from the freezer bag taking care to retain the marinade.  Place the loin on the tinfoil ready for roasting.  The meat should already have a lovely dark colour.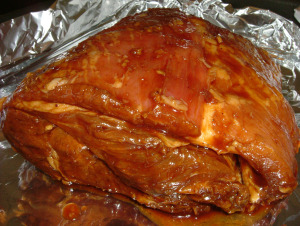 Place the meat in the oven and allow it to cook for approximately 1½ hours.
Place the marinade in a pan and heat on medium – allow to simmer for approximately 5 minutes until it becomes thick and teacle-like, then turn off the heat and use it  to baste the pork every 20 minutes or so to give a nice deep glaze.  Once the meat is cooked through remove and slice thinly.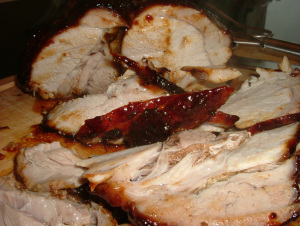 I served the char siu with some noodles stir-fried with spring onions and thin strips of carrot.