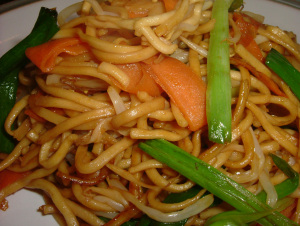 Chow Mein in restaurants or from take-aways varies depending on where you order it, some use thin vermicelli, some serve with an oyster and cornstarch sauce.  I like my chow mein with medium egg noodles and served 'dry' without any sauce other than soy.  The trick to stir frying noodles is to only partially cook them in boiling water – say about 75% cooked, they should still be slightly firm in the middle and this will stop them becoming overcooked when you stir-fry.  So if the packet instructions say cook for 4 mins, take them off the heat at just 3 minutes.  It is also important to have everything prepared and close at hand once you start cooking.
To serve 4:
approx. 280g (dry weight) medium egg noodles (or 4 'rounds')
3 tablespoons of sesame oil
2 cloves of finely chopped garlic
8 spring onions, cut in half lengthways and then in half to separate the green from the white
a large handful of beansprouts (or half a tin if you can't buy them fresh)
6-8 water chestnuts, each sliced in to 3 discs
1 carrot, finely sliced (use a peeler to slice fine strips)
2 tablespoons of dark soy sauce
2 tablespoons of light soy sauce
Cook the noodles as per the instructions, less a minute or so.  Pour them in to a colander and rinse through in cold running water, drain thoroughly and then toss in a tablespoon of sesame oil and leave to one side.
Heat 2 tablespoons of sesame oil in a wok until very hot, add the chopped garlic and fry for 30 seconds, stirring constantly.  Add the white half of the spring onions, the water chestnuts and beansprouts and stir, cooking on a high heat for about 1 minute.  Add the carrots, stir, and then add the noodles, the green half of the spring onions and both soy sauces and toss through the vegetables.  Stir fry for a few minutes, continually tossing the veg and the noodles.
Chow mein is great with prawns or left over cooked chicken (especially thigh meat) added after the garlic to ensure they are warmed through, or serve the noodles topped with slices of pork Char Siu. Tonight I served my chow mein with a hoisin, honey and soy marinated chicken breast, cooked on a high heat in the oven for 15 minutes.