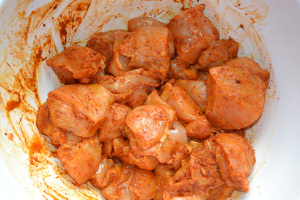 Recipe From River Cottage Everyday
I know I have been a naughty blogger lately and have neglected my poor old blog terribly but I'm back in the saddle as they say and to make up for my absence I thought I should post something really nice and sweet by way of apology.  We are trying to cut down on processed 'treats' and snacks in this house and with the return to school just around the corner I wanted to try a new muffin recipe that would be handy for a lunchbox treat and this one from River Cottage Everyday fits the bill perfectly.  I have to say that I am a huge fan of Hugh Fearnley-Whittingstall and I find his recipes really do work for me and yet are so simple.   The recipe in the book is for Lemon Curd Marble Muffins but the 'Variations' section at the bottom of the page suggested using 75g of dried fruit in place of the Lemon Curd and seeing as we had picked up a packet of Crazy Jack Organic Soft Apricots from the health shop this was perfect.  I loved that this recipe used only 75g of butter and 100g of sugar which is a bit less than some muffin recipes.  I did worry that the lower sugar quantity was because of the lemon curd and that using dried fruit wouldn't be sweet enough but these were perfect.  The soft apricots are sulphur dioxide free and are much darker and squidgier than the bright orange dried apricots you often see – this makes them much lighter in the muffin as they remain so juicy and soft and they don't require rehydrating so I definitely recommend using this type if possible.  The addition of yoghurt makes for a really light fluffy muffin – which I much prefer over those dense heavy oily ones and the method is so quick you will have these mixed and in the oven in no time.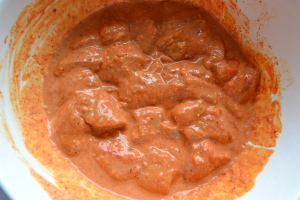 For 12 muffins
225g plain flour
2 teaspoons of baking powder
good pinch of sea salt
100g caster sugar
1 medium egg
125g plain yoghurt (I used Glenisk organic Greek yoghurt)
125ml whole milk
75g unsalted butter, melted and cooled slightly
75g soft apricots, chopped in to small dice
Preheat the oven to 160ºC (fan oven) and line a muffin try with cases.
Put the flour, baking powder, salt and caster sugar in to a bowl and whisk lightly to combine.  Mix the egg, yoghurt, milk and butter together in a jug and then pour in to the dry ingredients.  Mix lightly and stop as soon as the mix is combined – apparently over mixing will result in a dense muffin!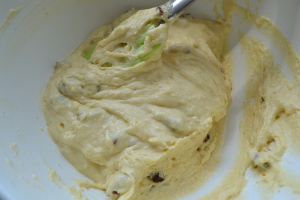 Add in the chopped apricots and stir lightly again to distribute and then spoon the mixture evenly in to the muffin cases.  Pop in to the oven for 30 minutes until golden brown. Transfer to a wire rack and allow to cool…if possible.