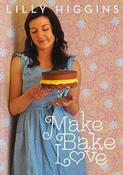 Image courtesy of Gill & Macmillan
Make Bake Love is a book I have been meaning to blog about for some time now and I can't think of a better subject for my first proper post of the year.
Many of us Irish food bloggers were waiting excitedly for Lilly Higgin's first foray in to the cookbook world thanks to her beautiful blog entitled Stuff I Make, Bake and Love.  I have also heard fantastic reports from those lucky enough to attend the supper clubs run by Lilly and her sisters, Loaves and Fishes, which seem to book up fairly rapidly.  For me the book certainly did not disappoint, it is full to the brim of fabulous treats, both sweet and savoury, and would make a great addition to anyones collection.
Lilly has a lovely style of writing – instructions are clear and concise and thoughtful little tips are often included as well as the occasional little story to accompany the recipe – my personal favourite being Old Henry Bars!   Contents start off with a thoughtfully provided Conversion Chart and then on to Big Cakes, Small Cakes, Bars Biscuits and Cookies, Pies and Tarts, Breads, Thrift (I love that this chapter is included) and Must Haves.  Another thing that I really love about this book is that each photograph was styled and taken by Lilly herself so you get a real feel for how a cake should really look.
The first recipe I have tried from Make Bake Love was the Sticky Toffee Cakes which were amazingly good but yet unbelievably simple to make.  We liked them so much that we had them for our Christmas dessert and the beauty of this recipe is that the cakes are made in muffin cases and can be kept for a couple of days.  My husband and son have marked out several recipes that they want to try out and I have my eye on the very indulgent looking Citrus Tarts.
Make Bake Love is published by Gill & Macmillan and is current on sale, reduced from €19.99 to €15.99 on their website.