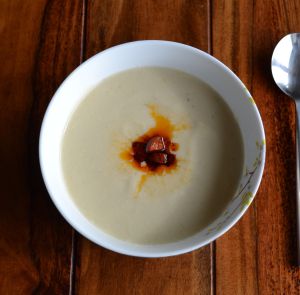 I absolutely love Cauliflower Cheese, it is one of my favourite side dishes for a Sunday roast but as no one else in this house eats it I tend to make a small individual dish using a few florets, which leaves me with a substantial part of the cauliflower left-over to make lovely creamy soup for lunch the following days.  On Sunday I decided to try out Mark Hix recipes for both from his lovely book British Seasonal Food.  I only slightly deviated from his recipe by not using leeks (I had none) and by using less milk and no cream. The soup was delicious and I served it in the picture above with some diced chorizo lightly fried in rapeseed oil, which adds a welcome bit of heat and spice, and on day two I threw in the rind of some old parmesan from the freezer whilst it reheated and it was every bit as tasty as the first day. It is a really gorgeous simple soup to make. 
To serve 4:
1 head of cauliflower (minus a floret or two in my case!)
1 large onion, diced
1 knob of butter
1 tablespoon of rapeseed or olive oil
1 litre of vegetable stock
300mls of milk
salt and white pepper
Cut the cauliflower in to florets and remove any outer green leaves.  Heat a heavy based large pan on medium heat and add the butter and oil followed by the onions.  Stir well, turn the heat to low and allow the onions to cook without colouring for around 10 minutes until nice and soft.
Add in the cauliflower, stir and then cover the pot and allow to cook for around 10 minutes.  Pour in the stock and bring to the boil, then lower the heat right down to a simmer and add in the milk and a pinch of salt and pepper.  Allow to simmer for around 30 minutes until the cauliflower is completely soft and then blend until nice and smooth.  Check the seasoning again and add more salt and pepper if necessary then strain the soup through a sieve in to a clean pot, just to make sure you get any lumps out.  Warm over a medium heat for a few minutes before serving.
If you want to make Cauliflower Cheese Soup then add a handful or two of grated vintage cheddar or the rind of parmesan when reheating the soup after it has been blended and sieved.