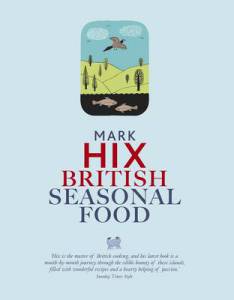 I first became aware of Mark Hix in 2007 when he appeared on season two of The Great British Menu.  He stood out to me as he seemed so quietly confident in the simplicity of his food whilst some of his competitors faffed furiously with elaborate creations – he was obviously very passionate about using superb local produce and happy to let it speak for itself.  Mark won his round with a rather fantastic, and most delightful sounding, Rabbit and Crayfish Stargazy Pie – well how could a pie with a name like that fail to impress?
When I received British Seasonal Food (the paperback edition of the original tome published in 2008) from the very kind people at Quadrille Publishing I knew it was the kind of book that I would want to sit down and savour and, having spent some time with it now, I can quite honestly say this is how I would like to eat.  Using homegrown or local produce at its' very best.
As you would expect from a seasonal cookbook British Seasonal Food is divided in to months and each month features 'star' ingredients that are at their best at that time of the year – such as Gurnard, Furred Game and Cabbages in February and Prawns, Squashes and Pumpkins and Autumn Berries in September – and each star ingredient then features in a number of recipes. 
There are plenty of beautifully simple recipes using readily accessible ingredients, such a delicious Cauliflower Cheese (January), Lobster and Jersey Royal Salad (May), Crab Sandwich and Strawberry Sundae (July), Pear and Apple Cobbler with Berries (September), Spiced Parsnip and Apple Soup (October) and of course that  Rabbit and Crayfish Stargazy Pie (June). 
The sight of old family favourites, such as Faggots (January), Bubble and Squeak (May), Prawn Cocktail (September) and Haddock Fish Fingers (November), all brought a smile to my face and are perhaps dishes that are often forgotten these days but most definitely deserve to be back on our tables again.  There are also plenty of exciting recipes that certainly make me what to cook something a little bit different and I love that about this  book.
Whilst I am aware that a few recipes in British Seasonal Food feature certain ingredients that might not be as accessible here in Ireland as they are for our neighbours (I have not seen monkfish liver or cod tongues in a fishmongers here, but then I have never asked!) or use cuts of meat that we probably don't see often in many of our local butchers, I do think this is slowly changing. Sourcing what we now see as specialist cuts of meat (that were probably once commonly used and for some reason fell out of favour) or artisan products and ingredients is becoming easier as demand grows. British Seasonal Food encourages the reader not only to think about seasonality but also sustainability.
After reading through British Seasonal Food I think this will be a book that I will go back to time and time again and I can't help but feel inspired – not only to try out Mark Hix's fabulous recipes but also to enjoy more of our own fabulous seasonal homegrown produce in the year ahead.
British Seasonal Food in paperback is published by Quadrille Publishing and available from 4th March 2011 (RRP £14.99) and available to pre-order from www.amazon.co.uk.