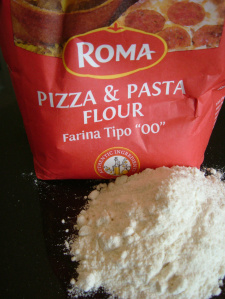 Thanks to the brilliant Damien Mulley and very generous Adam in Roma Foods, myself and a number of other bloggers were recently sent a lovely parcel containing two Roma products: Pizza & Pasta Flour – Farina Tipo 00 and a lovely Limited Edition tin containing dried Penne.
I was delighted to get my hands on the flour in particular as I have found it rather difficult to find Farina Tipo 00 in many shops here, including my favorite shop in Westport, Market 57, that carries all types of lovely specialist Italian produce but sadly no Tipo 00 flour.
Farina Tipo 00 is a highly refined and very soft flour ideal for pasta and pizza making.  It is also now commonly found in many bread recipes so I am delighted that a well known brand is now making this flour readily available here in Ireland (I understand it will be stocked in Dunnes and Superquinn).
As readers of this blog will already know we are rather partial to homemade pizza in our house so this was an obvious choice for my first trial of the Roma flour using my usual pizza dough recipe.  The first thing I noticed was that the flour was much softer and lighter to the touch and when mixed with the other ingredients the dough became very soft and pliable, making kneading a lot easier and the end result was a much smoother, silkier dough than with regular bread flour.  The cooked pizza had a wonderfully crisp base –  more so that usual and I was very pleased with the results.
My second trial of this flour was my sons' all time favorite garlic dough balls which turned out wonderfully soft inside with a lovely crisp outer crust. 
I will certainly be purchasing – and now that I finally have my hands on some Tipo 00 flour I even have plans to give homemade pasta a go very soon.