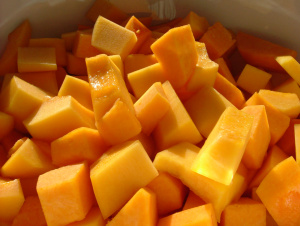 This is a really simple and quick soup to make.  The spices give a lovely warm curry hint to the soup so it is ideal for the months that lie ahead.  For this recipe I used 2 butternut squash as they were a bit on the small side and with around 1.5 litres of stock/water there was enough to serve 6.  If you have one large squash then you may want to add in only half of the water and then check the consistency when blended.
olive oil
2 onions, diced
1  clove of garlic, chopped
2  butternut squash, peeled, deseeded and diced in to rough 1″ cubes
1 tablespoon of ground cumin
1 tablespoon of ground coriander
1 tablespoon of garam masala
1 teaspoon of ground ginger
½ teaspoon of ground chilli
1 litre of chicken or vegetable stock
500mls of water
salt and pepper
Heat a glug of olive oil on medium heat in a large casserole/pot.  Add the onions and garlic and stir to coat in the oil and cook until soft.  Add all of the spices, stir and cook for a few minutes.  Then add the diced butternut squash to the pot together with the stock and water and turn up the heat to bring to the boil for a few minutes and then turn down the heat and allow the soup to simmer until the squash is tender (you should be able to squash it with the back of a wooden spoon).  Blend the soup with a stick blender and serve.  I served with some cream and chives but this would also be delicious with sour cream and coriander.