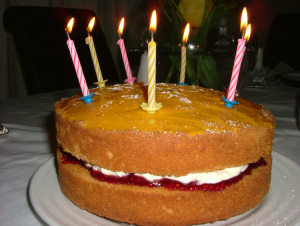 My wonderful son and husband made me a birthday cake.  A beautiful, simple, delicious cake that was so lovingly made by them for me.  It was an old fashioned Victoria Sponge complete with raspberry jam and fresh cream and the recipe is from Hugh Fearnley Whittingstalls' River Cottage Family Cookbook – I gave this book, with a special inscription, to my 9 year old son as a first cookbook and I know from his reaction when he received it that it will be something he will treasure forever.
We have used this recipe for cupcakes too and it has the most delicious old fashioned sponge taste.
The method is that you weigh 4 eggs and whatever their total weight is you use the same weight unsalted butter (softened), caster sugar and self-raising flour (sifted).
Cream the butter and sugar together in a large mixing bowl.  Add the eggs, one at a time, beating in-between each egg.  Before the 4th egg, add a tablespoon of sifted flour to help the last egg incorporate in to the mixture.  After all of the eggs have been mixed in add a teaspoon of vanilla extract and the flour and fold gently.  If the mixture is too stiff add a tablespoon or two of milk so that the mixture falls of the spoon without too much effort.  Spoon the mixture in to two greased sandwich tins (lined on the bottom) and cook at 160ºC for 25-30 minutes.  Turn out on to a wire rack and allow to cool before lashing on raspberry jam and cream!
My son had intended to write 'happy birthday' in yellow icing on my cake but forgot and spread the icing all over the top instead, so he did the next best thing and scratched 'Happy 40th' into the icing with a toothpick (which I think was probably his dads' suggestion!)