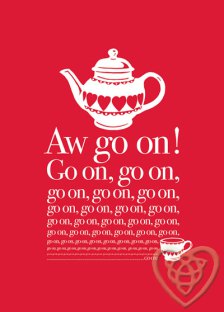 You may have noticed that The Glutton's Kitchen has a new fancy header – a brilliant paper cut artwork made by the very lovely and super talented Jane Steger-Lewis of www.ilovemayo.com.  In addition to amazing paintings of her roosters, Jane produces a  Love Ireland range of gorgeous contemporary prints inspired by Irish blessings and culture which I am huge fan of.  I particularly love this big bright quirky print, which looks fab in a white frame and is guaranteed to bring out the Mrs Doyle in anyone. To celebrate my brilliant new blog header I am giving one of Jane's Aw Go On prints to one of you lovely readers. To enter simply leave a comment below. Post to Irish or UK addresses only. Closing date Friday 27th January 2012. Winner will be selected by random number generator thingy.
UPDATE!!!!!  So sorry for the delay in finalising this comp.  Using random.org the winner is 3!!  
True Random Number Generator
Min: 1
Max: 22
Result:
3
Powered by RANDOM.ORG
This is the best I could do with cutting and pasting number generator – by my reckoning the winner is Sharon Ni Chonchuir :) congrats – email me your address to gluttonyforbeginners@gmail.com and I'll pop it in the post to you.