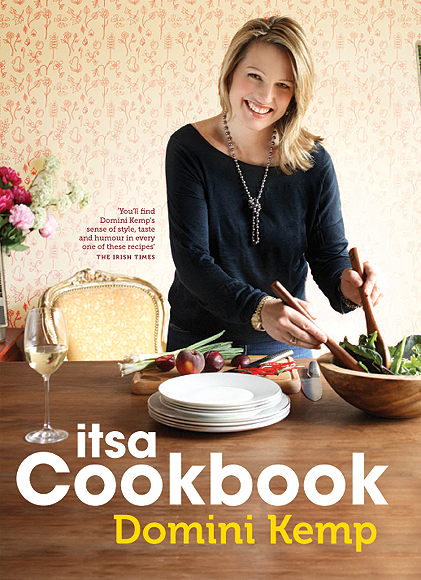 When I worked in Dublin I considered myself quite lucky to be located a quick stroll away from Itsa Bagel as it was one of my favourite places to pick up lunch.  Apart from their very tasty bagels they always had at least two tasty and wholesome soups on offer (the lentil and vegetable appears to be one of their best sellers) and a really lovely selection of salads such as chickpea, pumpkin and feta, a very moreish couscous and my most favourite of all, a robust Caesar salad with chunky toasted bagel croutons, lashings of parmesan and  dressed in the nicest, creamiest Caesar dressing I have ever tasted (which is probably due to the fact that it contains no anchovies!).   So when the very kind people at Gill & Macmillan sent me a copy of the new Itsa Cookbook I was delighted to finally get my hands on that Caesar dressing recipe, which I have since made to accompany some lovely pollack goujons and chips and it was just as delicious as I remember. 
Itsa Cookbook is written by Domini Kemp, who together with her sister Peaches, owns and runs four itsa bagel shops, the cafe at IMMA, restaurants in Brown Thomas, itsa4 in Sandymount and Feast catering.  Domini also writes for the Irish Times Magazine on Saturday and I have often torn out a page or two to add to an ever growing collection.  I always think that Domini's food is very much suited to our modern lifestyles and ingredients are kept simple, healthy and accessible, even for those of us that do not reside in a large town or city.  Domini's instructions are clear and her approach to preparation and cooking appears straightforward and uncomplicated.  I like this.  Whilst I love cooking and enjoy preparing food for family and friends I don't necessarily want, or indeed have the time, to spend much of my day in front of the cooker – good results without fuss is what I want and this is certainly offered by Domini in this book.
There is quite an array of recipes on offer – grouped in to six chapters starting with basics such as how to cook steak and roast chicken, on to wonderful healthy breakfast and brunch ideas, through to no-fuss dinners perfect for busy days (I am definitely planning to try the lazy green Thai-ish curry and tag bol recipes), followed by a chaper entitled 'Bit on the side' which contains some lovely fresh salad and vegetable recipes.  Then Domini gives us a chapter named 'Show Off' which contains a lovely selection of recipes for those times when you want to do something a little bit special, like crab cakes with lemon and caper salsa or the delicious sounding pork and lettuce parcels, but again the focus is on producing great food without stress.  The final chapter of course deals with the 'Sweet Stuff' and here Domini has provided a lovely collection of desserts and cakes, from light vanilla panna cotta to cherry and orange pudding, there is most definitely something here for everyone.
Itsa Cookbook is a lovely book with a wealth of simple, healthy and stress-free recipes for every occasion.
Itsa Cookbook is available in paperback and priced €19.99.  You can purchase directly from Gill & Macmillan for the special price of €15.99.