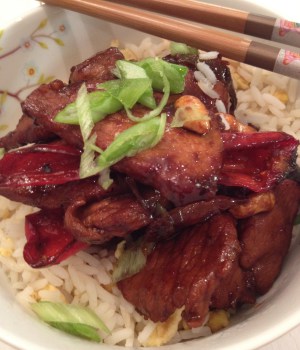 From Bill's Everyday Asian by Bill Granger

Last year I made a conscious decision to cut down on the amount of cookbooks I was buying – not only was I running out of space but I just didn't have enough time to try out all of the recipes that I wanted to.  This means that I am a little more select now in the books that I do buy and that's no bad thing really.  I had my eye on this book ever since it was released last year – I am fast becoming a big fan of Mr Granger since receiving my first book of his, Bill's Basics.  I always find around New Year that I start craving simple but spicier food after all the rich indulgences of Christmas so Bill's Everyday Asian made perfect sense as the first book purchase of the year. And this book really didn't disappoint – there are so many inspiring, simple, fresh and no doubt delicious dishes in here – I love that in the introduction Bill states that his one rule is "that nothing should require a list of a hundred hard-to-find ingredients".  This is my type of cooking.
So on to this dish in particular.  This is the perfect quick Friday night dish but much cleaner and lighter than anything you could order from the local take-away.  It requires very little by way of ingredients or prep and my family really loved it.  The only thing you need to ensure before starting is that, as with most Asian cooking, you need to have everything prepared and ready to go once the wok goes on. Oh and I couldn't get pork fillet so I used pork loin. Still delicious.
To serve 4
1 tablespoon of soy sauce (I used dark soy)
2 tablespoons of Mirin
2 tablespoons of Hoisin sauce
2 teaspoons of sesame oil
1 teaspoon of dried chilli flakes
800g pork fillet cut in to 5mm strips
3 tablespoons of sunflower oil
4 garlic cloves crushed with the flat of a knife
3 red chillies, cut in half lengthways and de-seeded
1 tablespoon of water
6 bulb spring onions, halved or one red onion cut in to wedges
1 tablespoon of soy sauce (I used light here)
2 tablespoons of granulated sugar
2 tablespoons of roasted peanuts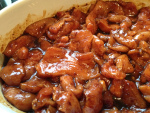 Mix together the dark soy sauce, Mirin, Hoisin sauce, sesame oil and chilli flakes in a shallow dish. Add the pork and toss well to coat and then leave covered in the fridge for at least 15 minutes or longer if you have time.
Heat a wok over high heat and add 1 tablespoon of oil.  When smoking add half of the pork and stir fry for around 2 minutes.  Remove from the wok and repeat with the remaining pork.

Heat the remaining tablespoon of oil and add the garlic, chillies, 1 tablespoon of water and the onions.  Stir-fry for 4 minutes but covering the wok for the final 2 minutes.  Now add the light soy sauce and sugar and then return the pork back to the wok and toss to coat.  Cook for a further minute and garnish with the roasted peanuts.  I served this dish on top of some egg fried rice.