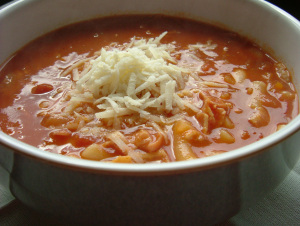 This soup was one of the first things I earmarked to try in Catherine Fulvio's lovely new cookbook – I knew I would love it and have been making it regularly ever since.  What I particularly like about this soup is that thanks to the pancetta, beans and macaroni it could easily be served up for a light supper with some lovely crusty bread and I doubt any one would complain.  I have to confess something here – I have been adding a little diced chorizo to mine at the start with the pancetta.  I know this is probably sacrilege to some but when it comes to food I think if you like it and it tastes good, then go right ahead.  I have added it in to the recipe below and also slightly changed the method. If you prefer leave the chorizo out but it does add lovely 'depth' as they say. Or you could just use chorizo, it's up to you.  I leave the parmesan for sprinkling because my husband doesn't eat cheese (strange man) so if you prefer you can add this in at the end of cooking to allow it to melt through.  This is such a warming, deeply flavoured soup – perfect for chilly days.
olive oil
8 slices of pancetta or smoked rashers, diced
4″ piece of chorizo, diced (optional)
1 medium onion, finely diced
1 carrot, finely diced
1 stick of celery, finely sliced
1 teaspoon of chopped rosemary
1 tablespoon of tomato puree
1 tin (400g) of cannellini beans, drained and rinsed
1 tin (400g) of chopped tomatoes
1 litre of chicken stock
2-3 handfuls of macaroni
salt and black pepper
freshly grated parmesan to serve
Heat a glug of olive oil in a large casserole or heavy pot on medium heat.  Add in the pancetta and chorizo and fry until the pancetta is golden then remove both from the pot with a slotted spoon, leaving behind the oil, and place to one side.
Add the onion, celery and carrot to the same pan and stir to coat in the oil (if you have used chorizo then the oil will be a beautiful deep orange colour). Cover the pot and allow the veg to sweat for 10 minutes, stirring occasionally, until nice and soft.  Tip the pancetta and chorizo back in to the pot and add in the rosemary, tomato puree, beans, tomatoes and stock.  Turn up the heat and bring to the boil and then add in the macaroni, stirring to stop it from sticking to the bottom.  Allow to simmer until the macaroni has cooked through, stirring regularly – probably around 15 minutes. One the pasta is cooked (and by now the carrots should be soft) check the soup for seasoning and add a pinch of salt and pepper to your taste.  Serve with a sprinkle of parmesan.
If you are reheating this soup the following day the pasta will absorb a lot of the liquid and the soup will be quite thick – just add in some water to the right consistency and then heat up.  Just be careful not to add too much water as it will dilute the flavour.