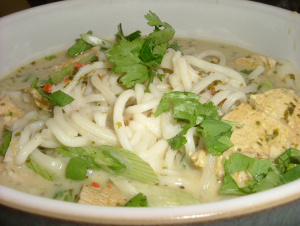 There are many different variants of and recipes for this spicy noodle soup but this one is very simple and uses ingredients that are very easy to find.  It is so delicious and fragrant and is wonderful served in small bowls for 6 as a starter or 4 for lunch.  This recipe does use 2 tins of coconut milk – if you prefer not to use that much by all means don't but it does give a much creamier, richer flavour.  Occasionally I substitute prawns for the chicken and if you wish to do that the prawns should be added towards the end to avoid over-cooking.
3-4 chicken breasts, sliced in to thin strips
1 tablespoon of groundnut oil
60g coriander (including stalks)
4 cloves of garlic
1 red chilli (no need to de-seed)
1/2″ piece of ginger (peeled)
2 limes
2 tins of coconut milk
600ml chicken stock
2/3 tablespoons of fish sauce (Nam Pla)
300g noodles
2 spring onions – finely sliced
Put the coriander (retain a few leaves for garnish), garlic, chilli, ginger and juice of 1 lime in a food processor and pulse to a coarse paste.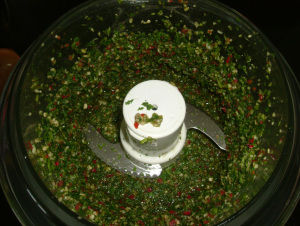 Heat the groundnut oil in a wok on medium heat and fry the paste for 1 minute strirring to ensure it does not burn.  Add the chicken and cook for 2 minutes, stirring to coat in the paste.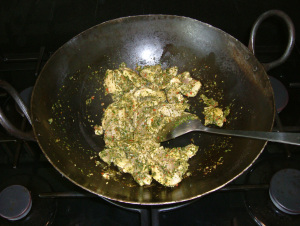 Turn up the heat and add the coconut milk, chicken stock and fish sauce, bring to the boil and then reduce heat to low and let simmer for 15 minutes.  Add the juice of the remaining lime.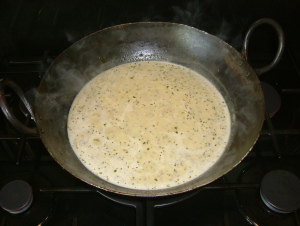 Cook the noodles according to the packet instructions and drain and place in the middle of the serving bowls.  Pour over the broth and garnish with some coriander leaves and the sliced spring onions.