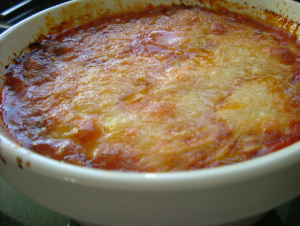 This is one of the first recipes that I was determined to try from Catherine Fulvio's wonderful book Catherine's Italian Kitchen.  I loved the idea of aubergines and melting mozzarella with tomato sauce and this dish was every bit as tasty as it sounded.  It is so simple and the ingredients are very easy to get hold of so it is a definite winner for me.
Serves 6
3 medium aubergines, sliced 2cm thick
salt and black pepper
olive oil
2 garlic cloves, finely chopped
1 teaspoon of tomato puree
1 x 400g tin of whole plum tomatoes, crushed
pinch of sugar
1 bunch of fresh basil leaves
250g of mozzarella, thinly sliced
100g fresh grated parmesan
Preheat the oven to 180ºC.
Place the aubergine slices in a colander, sprinkle with salt and then allow them to sit for around 20/30 minutes (releasing the bitter juices).
Whilst the aubergines are in the colander make the tomato sauce by heating around 2 tablespoons of olive oil in a large pan on a low heat. Add in the garlic and cook for a minute then add in the tomato puree and cook for a further minute. Empty the tin of tomatoes and all of the juices in to the pan and season with salt and black pepper.  Turn up the heat, bring to the boil then reduce the heat to low and simmer for around 20/30 minutes until the sauce has thickened.  Taste the sauce to check the seasoning and if necessary add some sugar if the tomatoes are too tart.  Shred around 5 basil leaves and add to the sauce.
Rinse and pat dry the aubergines.  Heat a glug of olive oil in a frying pan on a medium heat and add the aubergine slices a few at a time to brown. Drain on kitchen paper and season with salt and pepper.
Using an ovenproof dish (or smaller individual dishes as I did) spread a third of the tomato sauce over the bottom of the dish.  Cover with a layer of aubergine, then a layer of mozzarella, and scatter on some of the basil leaves.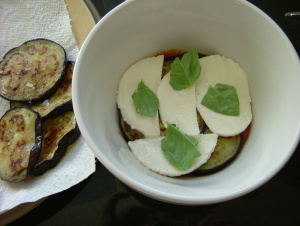 Continue with two further layers but finishing the last layer with the grated parmesan rather than basil leaves.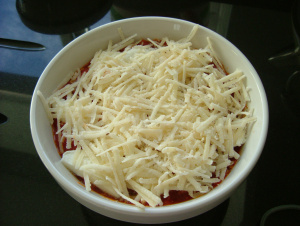 Bake for around 20-25 minutes until the cheese is golden around the edges.