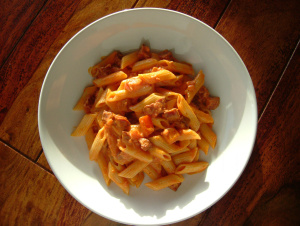 A very simple and quick pasta sauce but so very tasty. This is a brilliant recipe for a quick midweek meal and by varying the ingredients, say by adding chilli, using pancetta instead of chorizo and using linguine instead of penne, you will have a versatile base for many different pasta dishes.
To serve 2:
2 tablespoons of olive oil
5″ piece of Chorizo, chopped roughly in to approx. 1cm dice
1 red pepper, sliced in to strips
1 clove of garlic
1 glass of white wine
1 tin of chopped tomatoes
20ml of fresh cream
salt and pepper
200g of penne
Heat the oil in a sauté or frying pan over medium heat.  Add in the chorizo and cook for 5 minutes stirring occasionally.  Add in the red pepper strips and continue cooking for a further 5 minutes then add in the garlic and stir for 1 minute.  Turn up the heat and add in the glass of white wine, stir and then allow to simmer until the wine has reduced down (to around half), then add in the tomatoes, stir and cook for 5 minutes before adding in the cream.  Cook for a further 5 minutes, stirring every now and then, until the sauce has reduced and thickened.  Taste and season with salt and pepper. 
Whilst you are cooking the sauce put the pasta on to cook as per the packet instructions.  Drain and then toss in to the pan of sauce to coat and serve.