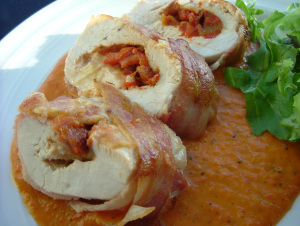 If I ask my family what they would like me to cook for them it is usually Chicken with Red Pepper Sauce and even my husband, who really dislikes peppers, loves this sauce.  It is great with chicken or fish and I have also served it with pasta. 
The dish itself is a handy one to have in your arsenal if friends or family are coming to dinner – the sauce can be made and chicken wrapped early on or indeed the day before and kept chilled, then all you have to do is cook the chicken and heat the sauce – easy.   Tonight I stuffed my chicken breasts with roasted peppers and tomatoes (sprinkled with olive oil, salt and pepper and roasted for around 40 mins at 200ºC) and creamy mozzarella. I used spanish bacon but I also use pancetta or slices of serrano or parma ham depending on what is available that day. The sauce also freezes well so I often keep any left over sauce in a freezer bag ready for a quick supper for one.
To serve 4:
4 chicken breasts

8-12 slices of pancetta (or serrano / parma ham)

3 tablespoons of olive oil

1 red onion, finely diced

2 cloves of garlic, roughly chopped

3 red peppers, diced

1 teaspoon of chopped thyme

1 tablespoon of tomato puree

250ml white wine

500ml chicken or vegetable stock

250ml cream

salt and pepper
Wrap each chicken breast in 2 or 3 slices of bacon.
The sauce: Heat 2 tablespoons of olive oil in a sauté or large frying pan on a low heat.  Add the red onion and sweat until softened – do not brown.  Add in the garlic and continue frying for another couple of minutes and then add in the thyme and diced red peppers, turn up the heat to medium and cook for approximately 10 minutes until the peppers are starting to soften.  Add in the tomato puree, a pinch of salt and pepper and stir.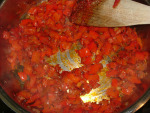 Turn up the heat to high and add in the white wine – allow the pan to simmer until the liquid has reduced by half.  Add in the stock and allow to reduce by half, then add in the cream and continue to simmer, stirring occasionaly, until the liquid has again reduced by half and then turn off the heat.  Allow to cool for a few minutes and then blend the sauce for a few seconds so it is a rough consistency and not too smooth. Leave to one side (if you are preparing early then cover and allow to cool before chilling until ready to reheat later).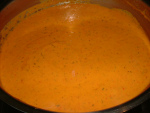 The chicken: preheat the oven to 180ºC.  Heat 1 tablespoon of oil in a non-stick frying pan on high heat, brown the chicken/bacon on each side then place in a roasting tin and in to the oven for approximately 20 minutes. 
Served below with green salad and oven roasted baby potaotes.