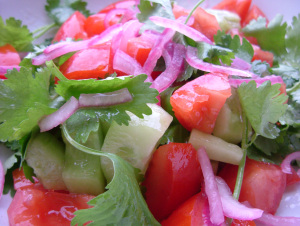 This is my own summer salad recipe and I think it is so pretty and really brightens up the table.  It tastes so fresh and zesty and is the perfect accompaniment to a barbeque or a summery lunch or dinner.
The secret to the zesty flavour and also to the amazingly bright pink onions is to soak thin slices of red onion in lime juice for an hour or so and you will end up with wonderful tasting onions that add a really fresh touch to the salad.
Like all salads this is best assembled close to when you wish to eat to stop the coriander wilting.  The quantities below serve 4 but you can easily add more or less depending on the occasion.
1 red onion, finely sliced

1 lime

3 tomatoes, deseeded and chopped roughly

half a cucumber, peeled, center removed and chopped roughly

40g of fresh coriander
Soak the red onion slices in the lime juice for approx. 1 hour.  Place all of the ingredients in a large bowl and mix gently using your hands.  Dress before ready to serve.
To dress the salad I make half the quantity of my basic French dressing using a couple of tablespoons of Mango Chutney instead of the Dijon mustard and honey – it gives a lovely sweet dressing with a mere hint of spice.