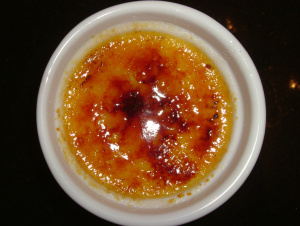 Crème Brûlée is one of our favourite desserts in this house.  My husband loves Rum & Raisin, my son prefers his plain and I like mine with rhubarb (as you can see from the pictures below!).  With this in mind I tend to keep a small jar of sultanas soaking in dark rum and when I find beautiful pink rhubarb I poach it or bake it and then freeze in batches that are very easy to defrost at short notice.  I definitely recommend purchasing a cooks blow torch – I think I purchased mine for around €20 in Superquinn.  If you do not have one then get your grill as hot as you can and place the ramekins under to carmelise the caster sugar.
Serves 6.
500ml cream
1 vanilla pod, split
5 egg yolks
60g caster sugar
1 teaspoon of vanilla extract
approx. 1 heaped teaspoon of caster sugar per ramekin for topping
Preheat the oven to 140ºC and put the kettle on to boil.  Stand 6 ramekins in a roasting tray (if you are using fruit place a tablespoon or so in the bottom of each ramekin).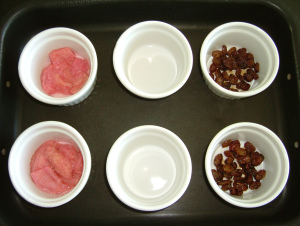 Put the cream in to a pot and add the vanilla pod (scrape out the seeds and add them too).  Heat the cream over a low heat until very hot but not boiling.   Put the egg yolks, caster sugar and vanilla extract in to a large bowl and whisk lightly until well mixed.  When the cream is hot pour gently in a steady stream on to the egg mixture being careful not to pour too quickly, and keep whisking lightly to make a thin custard.  Pour the custard mixture through a sieve in to a jug and then pour the custard gently in to each ramekin.
Pour hot water from the kettle to half way up the sides of the ramekins and place the roasting tray in the oven.  After 30 minutes check the ramekins – the Crème Brûlée should be set lightly with a slight wobble to the centre (each oven will vary so it is important to check at this stage).  Remove the roasting tray from the oven and carefully take each ramekin out and stand somewhere cool (I tend to put them on the window cill with the window slightly open).  Once cool enough cover with clingfilm and place in the fridge until ready to use – they will last for a day or two. 
Remove from the fridge half an hour before serving.  When ready to serve sprinkle the top of the Crème Brûlée with a heaped teaspoon of caster sugar and carmelise with a cooks blow torch, being careful not to let the sugar go too dark and burn.  Allow a minute to harden and then serve.