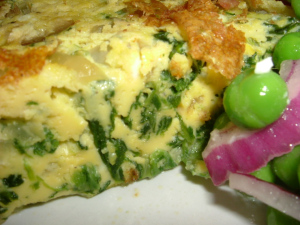 I love the frugality of frittata – some eggs, an onion and whatever you have left over or in the fridge can be amalgamated to produce a wonderful, tasty offering in very little time.  I served this frittata with a pea and feta salad.
Olive oil
One large potato, cooked and diced
One medium onion, finely sliced
Spinach – in this case I used frozen as no fresh was available – 3 portions sauted in a little butter then drained and put to one side
8 eggs
100ml milk
80g strong cheddar, grated
Salt and pepper
Preheat oven to 180ºC.  Heat the olive oil in a non-stick oven proof frying pan.  On a medium heat add the potatoes and brown lightly, turn down the heat to low and add the onions and sauté until soft and golden.  Then add the spinach and spread it out evenly in the pan.
Whisk the eggs, milk, salt and pepper in a large bowl then add to the pan with the potatoes, onion and spinach.  Leave to set on the bottom for a  minute or two and then gently sprinkle in the grated cheddar.  This should stop the cheese sticking to the pan and make removal a little easier!  Take the pan off the heat and place in oven for 15/20 minutes until firm in the centre.  Place your serving dish over the pan and turn upside down to release the frittata.