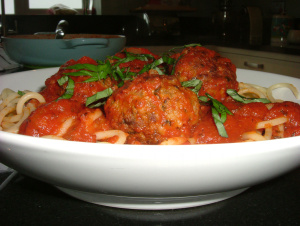 Tonight for dinner we had one of my sons' favourite meals – meatballs in tomato sauce.  All kids seem to love meatballs.   I have to say I am quite partial to them too as they are unbelievably quick, very tasty and cheap to make, especially if, like me, you keep breadcrumbs in the freezer and use the dregs of any wine you have knocking about in the fridge.  I know many chefs say you shouldn't use wine for cooking that you wouldn't drink but I really think this is a bit OTT.   For drinking I prefer a nice NZ Sauvignon but for cooking I think most bottles on 'special' for €5.99 in the local offie are perfectly fine for slugging into a sauce or casserole.  Provided you are not a regular meths drinker or buy stuff that would strip the enamel off your teeth then I think it is fine to use a cheapie bottle of wine for cooking. You can of course leave the wine out entirely if you prefer but I think it does give a richer sauce.  The quantities below serve 3 (if you are feeding my boys) or 4 normal people.
Meatballs (makes approx. 16 medium or 12 large)
1lb mince beef
2 cloves garlic, crushed
50g fresh breadcrumbs
50g finely grated parmesan
1 tablespoon dried basil
2 tablespoons fresh parsely
1 beaten egg
large pinch each of black pepper and salt
olive oil
Place all of the ingredients in a large mixing bowl.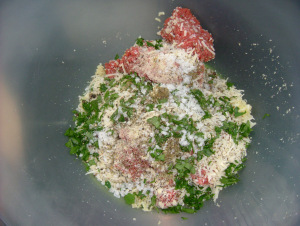 Mix well together with hands and shape in to ping-pong sized balls.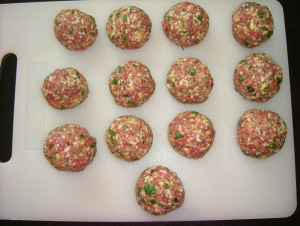 Heat oil in a frying pan and brown meatballs well on each side until almost crusty.  Remove from pan and place to one side in a large pot or casserole.   Do not wash the frying pan as you will now use this for your sauce.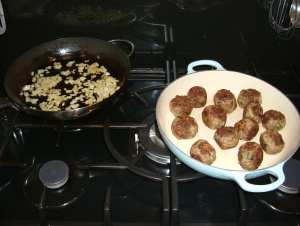 Tomato Sauce
glug of olive oil
1 small onion
2 cloves garlic, crushed
1 teaspoon dried basil
pinch salt and black pepper
3rd of a bottle of wine (red or white – I usually use white, I think it is lighter and it is usually what I have to hand)
1 bottle of Passata
pinch of sugar (to taste)
chopped fresh basil
In the same frying pan that you used for the meatballs heat the olive oil and fry the onions on a low heat until softened, scraping up all of the bits of meat on the bottom of the pan.  When the onions are soft add the crushed garlic, dried basil, salt and pepper and cook only for a minute.
Then add the wine and turn up the heat.  Simmer until reduced by half.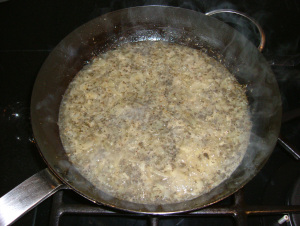 Add the Passata and stir, making sure the wine and onions are mixed through.  Add a pinch of sugar and taste to make sure it is not too tart.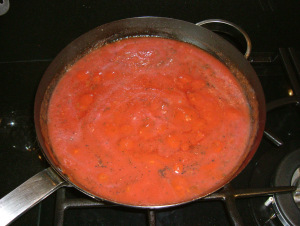 Pour the sauce over the meatballs, cover pot and continue to cook on a low heat for approx. 30/40 minutes until meatballs are cooked through.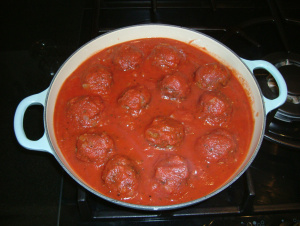 Serve with your favourite pasta and garnish with the chopped basil.