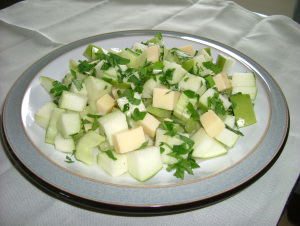 I love this salad. I love its simplicity, quickness, crunchiness, zestiness and green-ness. Sometimes I crave crunchy raw food and I always think that it is probably my body telling me I need to be a little bit more considerate. I first tried this salad in Avoca (Rathcoole) as part of my 3 salad accompaniment to a rather delicious lasagne and I have since made it at home to enjoy with Moussaka but more often on its own for lunch.
The Avoca version was served with what I think was a red Gloucester cheese – I much prefer a really strong crumbly vintage cheddar, just for that extra tartness.
I dress the salad with a french-style dressing and will post a separate recipe for that. The quantity below made a generous lunch serving for one and is served on a side plate in the pic.
For the salad:
1 apple (Granny Smith is my preference for crunchiness) diced
2 celery sticks chopped in to 1/2 inch slices
Diced vintage cheddar (I'll leave the quantity to you!)
Fresh chopped parsley
Simply mix all together and drizzle with dressing.