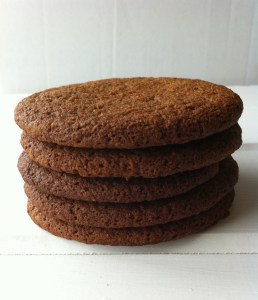 My husband and son both love ginger flavoured treats – gingernuts, ginger snaps, Jamaican ginger cake, gingerbread – they eat the lot with gusto.  Usually when my mum comes to visit us here she brings my husband a supply of his favourite M&S Ginger Snaps but on her last visit he was out of luck as there were no ginger snaps in stock.  The only biscuits I have been making here of late are these amazing chocolate chip cookies from Kristin over at Dinner du Jour but I eventually took pity on my poor husband and thought I'd have a go at making something that might resemble his beloved Ginger Snaps.  I, and indeed he, was really pleased with the results – lovely crunchy outer rim with a just slightly chewy middle.  Delicious and perfect for dunking in a cup of tea.  One thing that used to put me off cooking biscuits or cookies is that they would often go stale before we could eat the whole lot – one brilliant trick I have learned from that recipe for chocolate chip cookies is that if you weigh and roll raw cookie dough in to individual portions and wrap in cling film you can pop them in a freezer bag and keep them in the freezer until you want them – just take out one or two to cook at a time which  means you can have perfectly fresh cookies each day for weeks!  How genius is that?  For these biscuits I used an approximate weight of 30/35g per biscuit and this quantity of dough produced around 26 large biscuits.
300g flour
1 teaspoon of bicarbonate of soda (bread soda)
1½ tablespoons of ground ginger
½ teaspoon of ground allspice
½ teaspoon of cinnamon
pinch of salt
175g softened unsalted butter
200g soft brown sugar
1 large egg
100g (or two tablespoons) of golden syrup
zest of 1 lemon
Heat the oven to 160ºC (180 in a conventional oven).
Sieve the flour, bicarbonate of soda, ginger, allspice, cinnamon and salt together in to a bowl.
If you have a stand mixer use the paddle attachment to beat the butter and sugar together until light and fluffy and then add in the egg and beat a bit more.  Turn the speed down to low and then add in the dry ingredients and as soon as soon as the mix is combined stop beating so that the dough isn't over worked.  If you are doing this by hand then use a hand whisk to beat the sugar and butter together, then whisk in the egg,  then use a spatula to mix in the dry ingredients.
Next add in the golden syrup and the lemon zest, give one final mix and then refrigerate the dough for around half an hour – it is quite a soft dough and this will make it much easier to work with.
Weigh out approx. 30g portions and roll in to balls, if you wish to cook immediately place on a lined baking sheet and cook for 15 minutes.  Allow to cool before removing from the sheet.  If you wish to freeze some wrap each individual ball in cling film and pop in to a freezer bag.  When you want to cook simply unwrap, place on a baking tray and pop in to the oven for 15/20 minutes – no need to defrost.